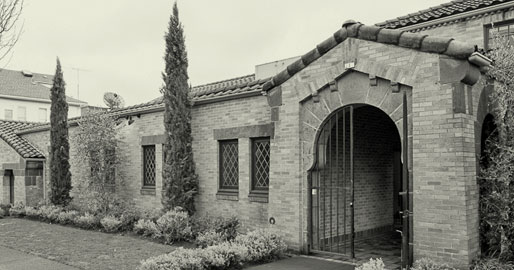 The Yoga Space Northwest
210 NW 17th Ave.
Portland, Oregon 97209
Located in a historic chapel next to Saint Mary's Cathedral, the NW studio is filled with soft light filtering in through stained-glass windows. This serene, elegant space features two spacious practice rooms, a meditation room carpeted in oriental rugs, two ADA accessible bathrooms with a shower, and a comfortable foyer to hang out in before classes and workshops. A private outdoor terrace off the meditation room is host to special events and plein air practices in the Summer months.
Community mats and props are freely available for student use.
There is dedicated bicycle parking on Davis & 17th to lock up your bike. 2 hour free parking spaces exist on the blocks surrounding the studio. For longer stays, such as workshops, there is a pay lot on 17th & Everett or 5-hour metered spots on 15th, or across Burnside. Weekend parking can be difficult during church hours or Timber's games, so give plenty of time or take public transport.
Zone K permit holders can park all day in designated areas.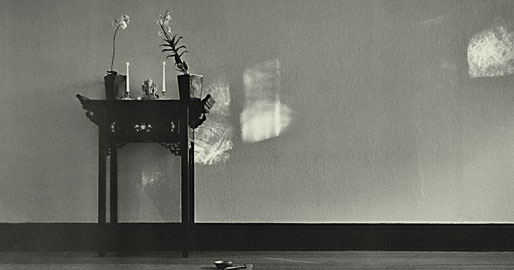 The Yoga Space Southeast
2857 SE Stark Street
Portland, OR 97214
The SE studio is nestled amidst the cafes, restaurants, and shops at the south end of Restaurant Row where 28th meets Stark. Throw your mat down and greet the community in our humble yet bright practice space. A small changing area and bathroom finish out the 1 room studio...no wasted space here, just enough room for a cozy meditation practice during winter solstice or a sweaty Saturday class with all your friends. Have a juice or veggie bowl afterwards at neighboring Canteen or falafel at Wolf & Bears.
Community mats and props are freely available for student use.
While there is no dedicated bicycle parking, nearby sign poles and fences can be used to lock up your bike.
Ample and free on-street parking exists on all the side streets around the studio. Parking on Stark Street is not allowed during rush hour, from 4–6pm Monday-Friday on the South side of the block.