Studio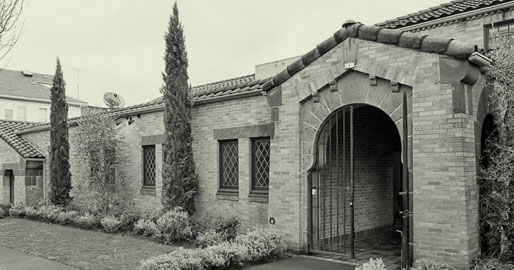 The Yoga Space
210 NW 17th Ave.
Portland, Oregon 97209
Located in a historic chapel next to Saint Mary's Cathedral, the NW studio is filled with soft light filtering in through stained-glass windows. This serene, elegant space features two spacious practice rooms, a meditation room carpeted in oriental rugs, two ADA accessible bathrooms with a shower, and a comfortable foyer to hang out in before classes and workshops. A private outdoor terrace off the meditation room is host to special events and plein air practices in the Summer months.
Community mats are a $5 rental rate
The Yoga Space is honoured to be a partner studio of the Trini Foundation, providing Ashtanga studio scholarships to support individuals in recovery. If you are a scholarship candidate, click here to apply. For more information about the Trini Foundation, please visit www.trinifoundation.org/.
There is dedicated bicycle parking on Davis & 17th to lock up your bike. 2 hour free parking spaces exist on the blocks surrounding the studio. For longer stays, such as workshops, there is a pay lot on 17th & Everett or 5-hour metered spots on 15th, or across Burnside. Weekend parking can be difficult during church hours or Timber's games, so give plenty of time or take public transport.
Zone K permit holders can park all day in designated areas.
Newsletter Signup
Stay connected with news, events, 
and special announcements: